Chicken Pie
Using Lucas Chicken Sauce Mix – 20053072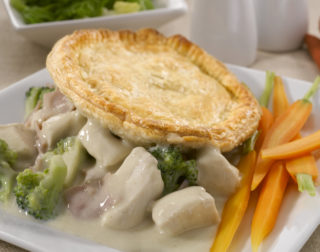 Product make up:
Light Chicken Meat (Diced)
40.00
8
0
3.600
Dark Chicken Meat (Diced)
20.00
4
0
1.800
Chicken Sauce Mix - 20053072
5.00
1
0
0.450
Cold Water/Ice
35.00
7
0
3.150
Method
Cook the diced chicken in 80% of the water until tender.
Blend the chicken sauce mix in the remaining 20% of the cold water to form a smooth paste.
The water that has evaporated/boiled off should be replaced before adding the chicken sauce mix.
Add the blend to the cooked chicken, stir well. Bring to the boil and then allow to simmer for 5 minutes.
Cool as quickly as possible and fill into pie shells and then cover with the lid.
Glaze the pies using Lucas pastry glaze 20053266. This should be done prior to and again 5 minutes before the end of baking.
Bake the pies @200°C/400°F/Gas 6.
STORAGE: Pies can either be stored under refrigeration or frozen.
Note:
• The pies can be frozen prior to glazing and baking and be baked off at a later date.
• Pies should be thoroughly thawed prior to baking.