Beef Hot Pot
Using Lucas Pie Gravy Mix – 20053050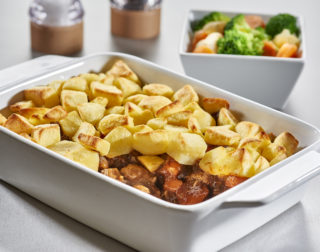 Method
(makes 2 trays – Scale up accordingly)
Diced Beef (Chuck steak or similar cut) – 450g
Diced Carrots – 75g
Diced Shallots – 75g
Pie Gravy Mix – 50g
Cold water – 350g (use 80% water (280g) to cook the beef meat. Remaining 20% (70g) to make your gravy slurry
Diced Potatoes (or sliced)
Add the diced Beef Meat to a pan with 80% of the cold water. Bring to the boil and simmer for approx. 2 – 2 ½ hours, until the desired texture of the meat is achieved.
10-15 minutes before the end of cooking add the carrots and shallots to the pan. Then allow to cool slightly.
To make the gravy mix. Add the pie gravy mix to a bowl, along with the remaining 20% of the water in the recipe. Mix thoroughly. Add this to the pan and bring back to the boil and then simmer for 5 minutes. Stirring continuously.
Allow the mixture to cool. Then assemble your dish.
Place the mixture into ovenable trays and place the potatoes on the top.
The Beef Hotpot can be sold as a kitchen ready product, either in foil, cpet or similar ovenable trays
Note:
The sauce is freeze stable, so is suitable for making in large batch sizes.
Cooking Instructions:
Oven cook. Cooking temperature 190ºC
Cook until piping hot, or an even temperature of 72°C is reached.